Artonian Quest
You must complete Sutekh's Stolen Gems Quest before you can start this quest. Completing this quest will grant you access to Dragon Land. I have not killed Mukarrama so I'm not sure what happens after you kill him.
Note: Completing this quest will allow you access to Dragon Land AND be able to kill dragons with out having to do the Wurms Quest, however, you will still need to complete the 1000 Sand Wurms Quest to go down to the Blue Level.
Reward: Experience / Access to Dragon Land
---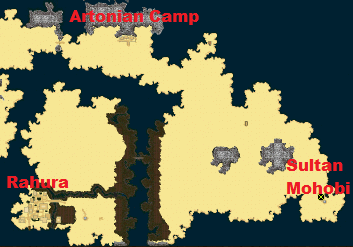 Part 1: Speak with Sheikh Khalifa in Khafra. He is located in the same building as Sutekh in the South East part of town. (If you have already gone through the Pollution Problem quest speaking to Sheikh will also end that quest)
Part 2: Travel to Rahura and speak with Sultan Mohobi. He is far East of town across the river in a small outpost. He will send you to acquire plans from the Artonians.
Part 3: Head North West until you find an Artonian camp. There is a cave entrance and a ladder you can use. You will enter the same area as the Sutekh's Stolen Gems quest. Kill Artonian Rebel Spys, the ones in the red robes, until you get a Quest Update. The Artonian Rebel Spys are lightly spawned so this may take a while. Be very careful, it is easy to become overwhelmed in this area. Return to Sultan Mohobi when you have finished. Receive 165k Experience.
Part 4: Travel to Khafra and speak with Nasif and speak to him about the Magnetic Resonator you found during the Access Portal to Rahura Quest. He is located North West of town in the Fishing Village. Return to Sultan Mohobi when you are finished.
Part 5: Kill Mukarramma. You will need a large party with high level players in order to defeat him.
Community content is available under
CC-BY-SA
unless otherwise noted.